Phil has all the technical knowledge & skill to ensure your piano performs to it's optimum
Concert Quality
Rebuilding of Upright & Grand Pianos
Steinway & Bechstein
Specialist
~
Specialist Services for
Trade and domestic clients
Restringing
Action overhauls
Concert Tuning & Regulation
Domestic Tuning and Servicing
Schools & College
Contracts
Restoring older instruments presents many challenges, the greatest of these is to restore the tone.
Phil has developed his own method of re-crowning the sounding board which restores the original tone of the piano.
This was highlighted by Fou Ts'ong when he congratulated Phil on the rebuilding of Alexandra Zoltowska's Steinway D concert grand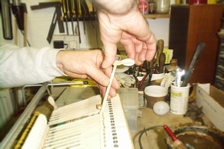 To produce the tone, the action needs to respond to every nuance of touch.
Phil's action restoration work has gained accolades from Julious Drake, Frank Wibaut, Fou Ts'ong and all pianist whom have played the Bosendorfer pianos at the Royal Concert Hall, where he has rebuilt the action's on both Bosendorfers.
More on the rebuilding of grand pianos